Roland D50 Cheap Samples

The D-50 was released in 1987 as Roland's flagship product and as such it was relatively expensive (rrp approx. £1,500). Although it was one of the first synths to feature built in effects it only featured Reverb. Unfortunately the reverb was of such a poor quality the majority of players simply turned it off. Although some of the presets are strongly associated with specific artists/songs they are still surprisingly relevant today and the amazingly clean sound of the VC-1 card for the VariOS or V-Synth makes it highly useful today (especially if you program your own sounds using the basic synthesiser waveforms.
Our D50 Budget 10 DVD Sample Collection
Using professional recording studio equipment we have sampled the sounds on the Roland VC-1 card in a VariOS in D-50 mode which has such minor differences to the original (as both use the same software) that the lack of noise easily outweighs this[Please note that Sound On Sound Magazine says that they noticed no difference between the VC-1 Card and a D-50 but, although SOS used an oscilloscope, to our ears on only a very small number of presets/patches we felt there was an audible difference - see http://www.soundonsound.com/sos/may05/articles/rolandvc1.htm and http://www.soundonsound.com/sos/sep03/articles/rolandvarios.htm.
We decided that, to get the best sound, that we would sample this machine with 4 notes per octave across more than 7 octaves to capture the full of the D-50 character. We took 21,836 24-bit samples of 771 D-50 patches to produce our 41.59 GB sample collection. Because we primarily produce these sample collections for our use, you can be sure that every effort has been made to get the best possible results.
We feel that our 10 DVD collectionis the most comprehensive Roland D-50 sample collection available at the moment. Each DVD is available to buy separately BUT, if you buy all 10 DVDs you effectively get the collection for less than half price.
10 DVD Collection of Roland D-50 Samples
KONTAKT / EXS24 / WAV



772 Roland D50 sound patches at 24-Bit resolution [41.66GB]

PRICE: £44.99

P&P: £9.99 (UK ONLY)

TOTAL: £54.98

PLEASE NOTE WE ONLY SUPPLY TO THE UNITED KINGDOM

Individual DVDs listed below
This sample collection now includes patches using our Kontakt interface which is shown below: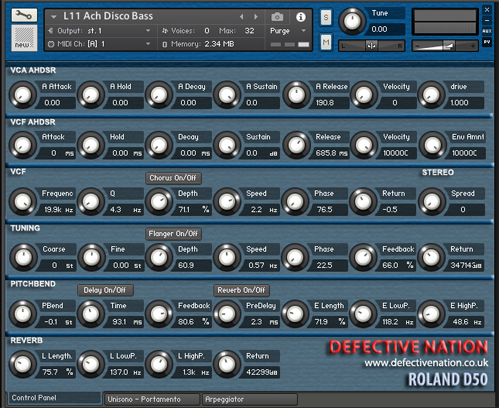 Included in the Roland D50 sample collection:
772 Roland D50 patches sampled available as Kontakt 2 instruments.
772 Roland D50 patches sampled available with Kontakt 5.5 interface (above).
Individual Roland D-50 Sample DVDs
ROLAND D-50 Samples 001
ROLAND D-50 Samples 002
ROLAND D-50 Samples 003
ROLAND D-50 Samples 004
ROLAND D-50 Samples 005
ROLAND D-50 Samples 006
ROLAND D-50 Samples 007
ROLAND D-50 Samples 008
ROLAND D-50 Samples 009
ROLAND D-50 Samples 010