Casio HT-6000 Samples

Casio may not be one of the most well known of synthesizer manufacturers as they tended to focus upon the home market creating keyboards for home use but they created some wonderful synths including the extremely rare HT-6000. Encased in the hard plastic body is a rather interesting synthesizer engine utilizing a selection of digital waveforms and analogue filters. Each voice can have up to four oscillators but they must share the same waveform. While this is limiting it does add a width to the sound not unlike chorus but, as the oscillators are detuned rather more timbres can be obtained. The filter is limited by the synths interface and the resonance fails to get anywhere near close to self-oscillation but it is a welcome inclusion Other aspects of the HT-6000 interface also prove restricting but, by using the Kontakt engine, many of these limitations are avoided and some really interesting tones can be created using our sample collection.
Kontakt, EXS24 + WAV

PRICE: £24.99

P&P: £2.99 (UK ONLY)

TOTAL: £27.98

Please Note:

This collection is only available in Kontakt, EXS24 & Wav.

Our sample DVD collection includes over 300 multisampled patches for maximum authenticity. To create the 4 DVD collection we took nearly 10,000 individual samples.

PLEASE CONTACT US IF BUYING FROM OUTSIDE OF THE UNITED KINGDOM
About our Casio HT-6000 sample collection
We sampled over 300 different patches on the HT-6000 at 4 notes per octave. As well as sampling the built in patches we also sampled various other patches featuring each of the waveforms. Unfortunately the waveforms of the HT-6000 are not radically different to each other and, sometimes, the differences are difficult to hear. It has been said, by some users, that this synth can sound similar to the famous PPG and, while the engine has similarities, the synth is simply far too limited to compete against such monster synths. However there is a "certain something" that sets this synth apart from others and it can achieve some sounds not possible on competing models. We set about capturing the most distinctive sound of the Casio HT-6000 and bottling it in our 18 gigabyte collection. In the process of creating this collection we set about creating a Kontakt interface to enable quick and easy edits to vastly extend the usefulness of our collection. With our first attempt we created over 500 additional patches and then decided to extend our interface further. We created another 200+ patches using the new interface and have included all 785 additional patches with the collection. Below is a picture of the interface which has been applied to all of the Casio HT-6000 patches sampled and we have also included the basic Kontakt 2 nki + wav files.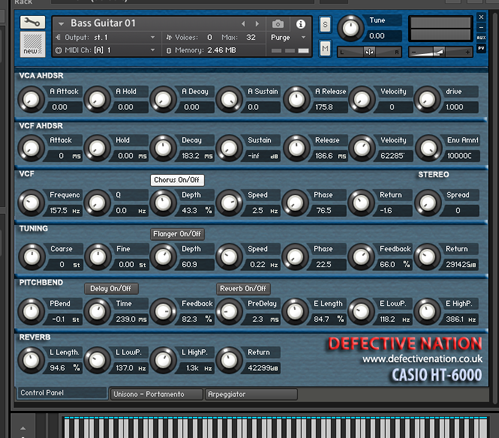 Included in the Casio HT-6000 sample collection:
Over 300 Casio HT-6000 patches sampled available as Kontakt 2 instruments.
Over 300 Casio HT-6000 patches sampled available with Kontakt 5.5 interface (above).
Nearly 500 extra Kontakt 5 patches created using Kontakt 5 engine and earlier version of our interface.
Over 200 additional patches created using our interface.
Kontakt, EXS24 + WAV

PRICE: £24.99

P&P: £2.99 (UK ONLY)

TOTAL: £27.98

Please Note:

This collection is only available in Kontakt, EXS24 & Wav.

Our sample DVD collection includes over 300 multisampled patches for maximum authenticity. To create the 4 DVD collection we took nearly 10,000 individual samples.

PLEASE CONTACT US IF BUYING FROM OUTSIDE OF THE UNITED KINGDOM