The Sequential Circuits Six-Track/MAX Synthesisers

The 1980's are known for the explosion of pop music which featured synthesisers. Now generally called "Synthpop" the music is considered a sub-genre of EDM (Electronic Dance Music). Initially driven by the cheaper analogue mono synths from Japan the music incorporated any/all advances in music technology. Yamaha had been investigating digital synthesis and released their FM synth, the DX7, to an eagerly awaiting market. Suddenly everyone wanted the DX7 but it had lost the multitude of hands-on controls (knobs and switches) to which most keyboardists had become accustomed. Unfortunately the DX7 created a trend among manufacturers to save on cost by eliminating hands-on editabilty except for one or two controls. In 1984 Sequencial Circuits released the Six-Track, which had a few buttons and knobs, and the Max which featured a bunch of buttons and a volume control.
The engines of both the Six-Track and the Max are virtually the same as the Max was created as something of an expander. Both were single oscillator per voice synths with 6 voices, a single 24db/4-pole filter per voice, with ADSR envelopes for filter and VCA plus one LFO featuring square or triangle for modulation of VCO, VCF & VCA. Thankfully both synthsrespond to CC (control change) data with each parameter accessible. This means that, by using a midi controller such as the Behringer BCR2000, it is possible to fully access all of the synths functions. At times the synths sound a little unstable but not to the point of annoyance.


Sequential Circuits Six-Track/MAX Sample Pack/Construction Kit

Kontakt, EXS24 + WAV

PRICE: £26.99

P&P: £2.99 (UK ONLY)

TOTAL: £29.98

Please Note:

This collection is only available in Kontakt, EXS24 & Wav.

Our sample DVD collection includes over 600 multisampled patches for maximum authenticity. For each patch sampled we created an edited version using our Kontakt interface and the Kontakt synth engine. We also created 50 other patches using the included Photosynthesis Kontakt interface. To create the 3 DVD collection we took over 12,000 individual 24-bit samples.

PLEASE CONTACT US IF BUYING FROM OUTSIDE OF THE UNITED KINGDOM
About our Sequential Circuits Six-Track/MAX sample collection

Using our professional studio we sampled over 600 different patches of the SC Max (same synth engine as the Sixtrack) at 4 notes per octave across 5 octaves. As well as sampling the built in patches we also sampled the raw waveforms, including various PWM (pulse width modulation) settings. The intention of sampling all of the raw waveforms and their various combinations, was to create a construction kit able to be used in conjunction with our Kontakt interface to conjour up all manner of synth sounds way beyond the capabilities of the Sixtrack or Max. Read more...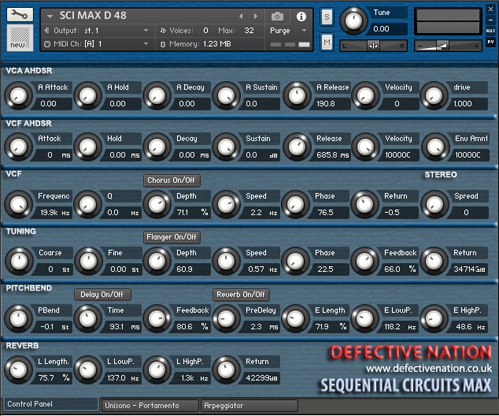 Included in the Sequential Circuits Six-Track/MAX sample collection:
600 Sequential Circuits Six-Track / Max patches sampled available as Kontakt 2 instruments.
600 Sequential Circuits Six-Track / Max patches sampled available with Kontakt 5.5 interface (above).
Over 600 additional patches created using our interface and the Kontakt synthesis engine.
50 patches using the Photosynthesis engine for Kontakt (supplied).
Sequential Circuits Six-Track/MAX Sample Pack/Construction Kit

Kontakt, EXS24 + WAV

PRICE: £26.99

P&P: £2.99 (UK ONLY)

TOTAL: £29.98

Please Note:

This collection is only available in Kontakt, EXS24 & Wav.

Our sample DVD collection includes over 600 multisampled patches for maximum authenticity. For each patch sampled we created an edited version using our Kontakt interface and the Kontakt synth engine. We also created 50 other patches using the included Photosynthesis Kontakt interface. To create the 3 DVD collection we took over 12,000 individual 24-bit samples.

PLEASE CONTACT US IF BUYING FROM OUTSIDE OF THE UNITED KINGDOM