Roland SH-2000 24-Bit Sample Collection

In 1973 Roland presented organ players with they SH-2000 synthesizer which was quickly accepted into the world of rock and pop which valued its portability, it's wonderfully warm and powerful sound together with a dramatically cheaper cost than Moog's modular synths which we being used in many bands of that time. Now it was possible to play synthesiser sounds without the need for numerous roadies to carry it on stage and without the need of taking several hours to set it up. All you needed to do was turn up, place it on top of the organ, piano or a keyboard stand, plug in only one cable and you were ready to go, so to speak. Read more about the Roland SH-2000 >>>
Roland SH-2000 SAMPLE PACK

KONTAKT / EXS24 / WAV



12GB, 169 Roland SH-2000 sound patches at 24-Bit resolution

PRICE: £14.99

P&P: £2.99 (UK ONLY)

TOTAL: £17.98

PLEASE NOTE WE ONLY SUPPLY TO THE UNITED KINGDOM - SORRY NO DOWNLOADS AVAILABLE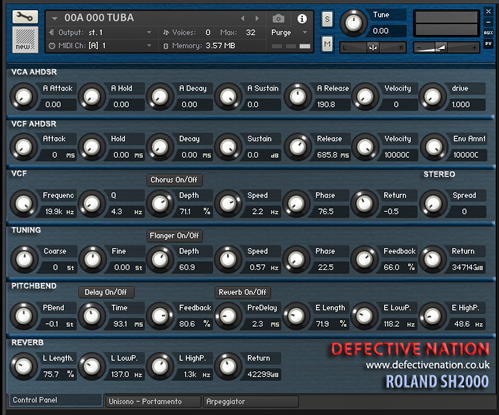 This sample collection now features our bespoke Kontakt interface to allow you to make fast and useful edits to the sound. The more adventurous users can create totally new patches using the SH2000 samples as diverse source material.
Now includes a free copy of our Ensoniq SQ-1 sample collection
About Our Roland SH-2000 Sample Collection
Roland synths have, today, got something of a reputation of being rather thin sounding but while the SH-2000 may not be as versatile as many of the American synths of the day (such as the huge Moog modular synth) it was actually able to make a surprisingly good impression of them. The power of the SH2000 can not be heard from the sound of youtube videos or ordinary computer speakers, the sound is deep and surprisingly powerful when played through studio monitors any, by sampling every note across just over 4 octaves (limited by the range of the synth) at 24-bits, our samples also display some (if not all) of this incredible power.
Although there are only 30 presets on the SH2000, it is possible to create a variety of variations which sound slightly different to each other, usually this means one is brighter or darker than the other. The SH-2000 has a top panel with a selection of controls which we used (together with some classic analogue outboard equipment) to create 169 different patches. Some of these patches are related because the SH2000 does not have a waveform selector so you have to choose a preset to alter. As well as the basic sound of a preset the synth has aftertouch which we also sampled for those patches which featured it. Using a sampler such as Native Instruments Kontakt 5 it is possible to take a small selection of patches and integrate them into one single patch making each sound at different velocity levels or maybe only available via a midi CC message. Further to this you can apply the samplers own filters to our samples to create an almost endless variety of, fundamentally Roland SH-2000, sample presets.
Getting The Most From Our Roland SH-2000 Sample Collection
As mentioned in the previous paragraph, our sample collection is great "sample fodder" for your hardware or software sampler. As well as using your samplers filters you can change a patch by applying LFOs to the pitch, filter or amp. You can also alter the envelope of the amplitude and the additional filters using the envelope generators of your sampler, so that you can have a short sharp attack and delay sound created using a long sustained preset from our collection.

Other ways to extend the usefulness of our sample collection(s) (and all other samples) is to add a very small amount of effects. Our particular favourite treatment is to feed the output of the sampler into a valve/tube preamp and back into our computer. You only need use a very, very, small amount of valve enhancement to make a huge difference to the sound. We have a selection of valve gear but for every item we had to change the tubes/valves removing those that came with it and swapping them for higher quality valves/tubes, it seriously makes a huge difference doing such an easy "upgrade". Of course, if you do not have any valve preamps you can put the samples through other guitar pedals but the trick is to use only very small amounts so that the essence of the SH-2000 remains. You can also use digital valve enhancement via a variety of plugins and most DAWs have one.

Also try adding a small amount of analogue chorus or phaser, or a digital emulation plugin but, again, the trick is to use such a small amount of effect that you do not notice it but that you do notice a difference if you turn the processing off. You will, most probably, find that the only processing that our samples need is some Eq, compression and, of course, delay and reverb as every synth needs one or the other or, even both.
Using the tips and tricks mentioned above it is perfectly possible, and even easy, to make each of our patches your own, different to any other person on the planet. You can do this even with only the plugins which come as part of your DAW but remember using only very small amounts of treatment give the best results - unless you want to drown out the sound of the SH-2000 and create something radically different from our samples, which , of course, is just as easily done. Whatever you decide enjoy yourself and have fun.
Roland SH-2000 Samples
To ensure that our sample collection is as accurate as possible we sampled every note, in our budget collections we only take two samples per octave but, sometimes, the SH-2000 changed across each note so that taking only 2 samples sounded wrong as it could sound as though the patch changed into another every few notes. However our collection is available at an extremely reasonable price (especially when you compare it to how long it actually takes to create each collection). We are 100% certain that you will be amazed at how great this collection sounds, so much so that you may even want to buy the actual hardware to learn how to make the most of those performance elements of the synth such as aftertouch.
Roland SH-2000 SAMPLE PACK

KONTAKT / EXS24 / WAV



12GB, 169 Roland SH-2000 sound patches at 24-Bit resolution

PRICE: £14.99

P&P: £2.99 (UK ONLY)

TOTAL: £17.98

PLEASE NOTE WE ONLY SUPPLY TO THE UNITED KINGDOM - SORRY NO DOWNLOADS AVAILABLE