Roland JD800 Cheap Samples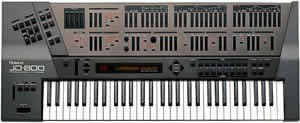 The JD800 was released in 1991 as Roland's flagship product and as such it was extremely expensive (rrp £2,700). On paper it seemed to answer all of the needs and wants of keyboard players of the day. Many viewed it as an updated D50 with the controller built in however the sound of the instrument was vastly different to its predecessor. Unfortunately, in general, it was considered to have a cold digital sound but, with a great deal of care and attention to detail it could be made to sound warm and almost analogue at times. Overall the JD800 was capable of creating sounds that would be impossible to create on any other instrument (excluding the rackmounted JD990). Read more about the Roland JD800 Synthesiser
Our JD800 Budget Sample Collection
This is our very first budget sample collection. Using professional recording studio equipment (24-bit) we have sampled two banks of stunning sounds from the Roland JD800 synthesiser. The only difference between a budget collection and an ordinary Defective Nation sample collection is that the budget sounds have two samples per octave and our Pro collections have all 12 notes per octave sampled. Each sound is sampled across a range of 5 octaves with samples looped andvelocity layered where required.
The sample collection includes patches for Kontakt and EXS24 samplers as well as the .wav files which almost all samplers (hardware and software) accept and which you can access to make your own multi layer patches if you so wish.
KONTAKT / EXS24 / WA

NEW COLLECTION SOON



128 Roland JD800 sound patches at 24-Bit resolution

PRICE: £9.99

P&P: £1.99 (UK ONLY)

TOTAL: £11.98

PLEASE NOTE WE ONLY SUPPLY TO THE UNITED KINGDOM
JD800 Sounds Sampled In Budget Collection 001
Below is a list of the JD800 sounds which we sampled to create collection 1.
Voices/Patches BANK 000: Factory Presets
BANKS 1 & 2
BANKS 3 & 4
BANKS 5 & 6
BANKS 7 & 8

000 11 Millenium
000 12 Massive Pad
000 13 Crystal Rhodes
000 14 Synthadelic Bass
000 15 Wailing Guitar
000 16 Fantasia 90's
000 17 Spun Glass
000 18 Mother Africa!
000 21 Swimotion
000 22 Classic Sweeper
000 23 LA MIDI'ed Piano
000 24 Meaty Bass
000 25 Stratomaster
000 26 Perc-Vox Stack
000 27 Killer Pad
000 28 Waveblower


000 31 Sci-Fi Groove
000 32 Mr.Brass!
000 33 Bruiser Tines
000 34 Wet Bass
000 35 Throaty Clav
000 36 Rockin' Wire
000 37 Iceman
000 38 Ming Dynasty
000 41 Planetarium
000 42 Pulse Pad
000 43 All Stops Out
000 44 Fusion Solo
000 45 Midi Guitar
000 46 Pain&Injury Keyz
000 47 Deep Breath Pad
000 48 Harlequin

000 51 Hearts of Space
000 52 Analog Brass
000 53 Ac.Piano 1
000 54 Modular Bass
000 55 Clavinut
000 56 Vocostrat
000 57 Invocation
000 58 Ethnic Logs
000 61 2-way Slide
000 62 Macho Swell
000 63 Sunday Best
000 64 Synth Pipe Solo
000 65 Nylon Choir
000 66 Scraping Bone
000 67 Hybrid Strings
000 68 JD-Bells 1

000 71 1974!
000 72 Polysynth
000 73 Metallic Rhodes
000 74 Face Bass
000 75 Velo-Crunch
000 76 Stack Attack!
000 77 Girlish Vox
000 78 Shakuflute
000 81 Aurora Borealis
000 82 Pulsation
000 83 Waveola Keys
000 84 Tekno Funk Bass
000 85 Backwards *60's
000 86 ChinkvoxBass
000 87 Bottle It
000 88 Doo Pipes
Voices/Patches BANK 001:
BANKS 1 & 2
BANKS 3 & 4
BANKS 5 & 6
BANKS 7 & 8

001 11 Modular Bass 2
001 12 5th Staircase
001 13 Ebony & Ivory
001 14 Pressure Dome
001 15 Gabriel's Harp
001 16 Synphonium
001 17 Breathing Space
001 18 Echo Overboard
001 21 Tekno Funk Bass2
001 22 Saddle Tramp
001 23 Tinie Piano
001 24 Vamping
001 25 Sixtring
001 26 Shaku-Brass
001 27 Quadrophenia
001 28 Winterland


001 31 Fretless
001 32 Slow Mellow Lead
001 33 Glass Pond
001 34 Resonancy
001 35 Levitation
001 36 New Ana-Brass
001 37 Crystal OrgBell
001 38 Moving Wave
001 41 Uprightious
001 42 Overdrive Lead
001 43 Midi Piano
001 44 Analog Strings
001 45 Ethnic
001 46 Tempest
001 47 From the Heavens
001 48 Space Voices

001 51 Mega Mono Bass
001 52 Semi-Hard Lead
001 53 Full Organ
001 54 Analog Brass
001 55 Depech Piano
001 56 Cheap STR mach
001 57 EasternHarporgan
001 58 Sparkle & Rain
001 61 Block Bass
001 62 Electric String
001 63 Air Piano
001 64 Pilgrimage
001 65 Brassz
001 66 Rattler & Sand
001 67 Grove Keyz
001 68 Big Stick Bass

001 71 Solo Syn Brass
001 72 A.Piano + Str
001 73 Sigh
001 74 F-nick
001 75 Heartfelt String
001 76 Blown Glass
001 77 Typhoon
001 78 Synth Bass
001 81 Radical Lead
001 82 Choir Organ
001 83 Soft Synth Brass
001 84 Millpond
001 85 Gentle Bow
001 86 Femme Fatale
001 87 Blendo!
001 88 Compulsion