Roland SH-2000

The early synths from Roland and Yamaha were rather different to those previous available (usually American). American synths were meaty beasts producing powerful tones and many would say that the Japanese synths were thinner and more delicate. While that may be mostly true, as generalisations go, the Roland SH-2000 has a huge sound which will surprise. You can't tell how powerful it really sounds by listening to compressed youtube videos (which often produce artifacts in the soundtrack), the only way to "feel" the SH-2000 is to play it through some decent speakers. This is clearly a performance synth.
Sections
More About The Roland SH-2000
Roland SH-2000 Specifications
Notes About The SH-2000
Famous Users
Roland SH-2000 Samples
More About The Roland SH-2000
In 1973 Roland released their second synthesiser which, by todays standards, looks rather strange and possible problematic to use but there are reasons why it looks like this and it just requires careful handling when performing (because of the flipper switches sticking out on the front). In 1973 synths were not as commonplace as they are today and Roland (and Yamaha) decided to market their first synthesizers to organ players/organists as an instrument for playing lead sounds not possible to create on an organ. The SH-2000 was often seen sat on top of an organ in a church, working mens club or in someones home, they certainly did not expect their synth to be used by rock bands. However, if you take a look at just one of the presets "popcorn" which is a sound extremely similar to that used in the pop song from the 1970's which was created on a huge Moog modular synthesiser. Keyboardists in prog rock bands all wanted to have the sound of the Moog modular and now they could at a tiny fraction of the cost and so small you could sling it under your shoulder, so it isn't really surprising that it was quickly adopted as a stage synth.
While many would call the SH-2000 a "Preset Synth" I would say that it is really a "Synthesiser with Presets". There were 30 presets (running from left to right - Tuba, Trombone, French Horn, Trumpet, Saxophone, Bassoon, Oboe, Flute, Clarinet; Cello, Violin, Bass Guitar, Hawaiian Guitar, Banjo, Fuzz Guitar I, Fuzz Guitar II; Piano, Harpsichord, Accordion, Vibraphone, Xylophone; Singing Voice, Song Whistle, Popcorn, Space Reed, Planet, Frog Man, Funny Cat, Growl Wow and Wind) and the idea of having the presets selection available at the front seems a great idea for somebody who was usually sat on a stool it isn't so great for somebody playing standing in front of it. Another problem with preset selection was that when you wanted to change the preset you had to physical move the active flipper into the up position before pushing the desired preset flipper down otherwise, if you wanted to use a preset to the left of the current one it simply wouldn't play as the sound would remain the same, until the current sound flipper was placed in the up position (preset to the furthest right always takes priority).

While the SH-2000 has presets it also has a single VCO (voltage controlled oscillator) with a VCF (voltage controlled filter), an LFO (low frequency oscillator) and a Random Note Generator. The keyboard has aftertouch which can have a selection of effects such as WOW and growl with vibrato and tremelo also available. Unfortunately there is no waveform knob so you are forced to choose a preset and edit it. Fortunately there are the usual cut off frequency and resonance knob along with a few others all handy over on the left. It is perfectly possible to play the cut off freqency to create the sound of an envelope generator being on the machine. As I have said this is a performance synth, or a synth for a performer, and it really comes to live once you have mastered the use of the aftertouch and the controls to the left. Once you've mastered playing the Roland SH-2000 you will know how to bring far more expression into your performance than with, virtually, any other synthesiser, other than the Yamaha SY-1 and SY-2 which is a very similar synth but with a different sound due to the wonderful filter made famous by Vangelis and his mighty Yamaha CS80.
Roland SH-2000 Specifications
Polyphony: 1 = monophonic
Control: NONE, not even CV/Gate.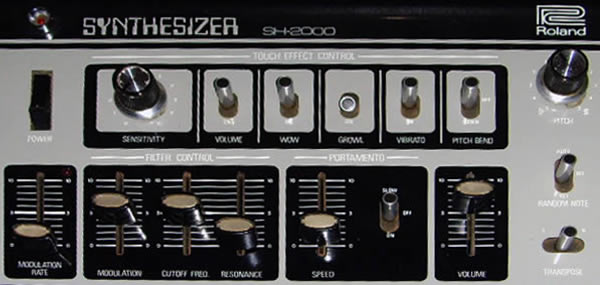 Roland SH-2000 Notes
Often when a keyboardist performs he looks for the phattest sounds/synths he can lay his hands/fingers upon just so that its sound can stand up to the other instruments in a band. This is also rather true for studio performances and recording and although it is, generally, said that Roland synths sound thin, this is not true of the wonderful SH-2000. The synth creates an amazing monophonic sound which covers a large spectrum of sound, it bleeds into areas normally occupied by other instruments so upi may actually have to thin the sound down to get the synth to sit well in a track. This is easily sorted by simply adjusting the Eq or, maybe, high pass filtering as Roland has a knack for creating synths that easily sit in any mix in any genre and the SH-2000 does not disappoint. Although the ramge of sounds which the synth creates is rather limited to the fact that there are not many controls but once you master the performance aspects of the synth you will make it sing in many different ways and, of course, effects can make such a huge difference to a sound which is, unfortunately, a fact that Roland learned and took advantage of years later when the built in effects on a synth actually became an important part of the sound of each synth (some would say that Roland synths were all effects and no substance but we believe that there are very few bad synths but plenty of bad players and many more bad sound designers who, as the saying goes, blame their tools for making a bad job of it).
Roland SH-2000 Famous Users
For a synthesiser.which has been around since the very early days of Japanese synths (well, 1973), it is surprising how few people are known to have used the SH-2000. Maybe it has something to do with the "cool factor" or, rather, the total lack of it. Yes it;'s a bit of an ugly thing but once you've learnt how to get the most from it you will ignore the more obvious aesthetic annoyances and you will come to love it. Another reason may be that it was always considered a budget synth, well it was and it wasn't, of course it was far cheaper than the Moogs and ARPs but is was at a similar price to the Yamaha and Korg synths of the day. While OMD are well known users of a budget Korg preset synth (on Enola Gay) there are really only two synth bands known to have used the SH-2000 and that's 808 State and Human League (but I think the Human League used every single Roland analogue machine that came out). I suppose you could include Fatboy Slim (Norman Cook) with the previous two users but from then on it is mainly rock and pop bands which are known to have used this synth and these include; Blondie, Eddie Spence (with the Gordon Giltrap Band), Fillmore, David Palmer (in Jethro Tull), Mike Oldfield, Nick Magnus (with Steve Hackett) and the band Supergrass.
Roland SH-2000 Samples
Below is our Roland SH-2000 sample collection (169 patches sampled) which is NOT part of our Budget range of sample collections (meaning every note was sampled) but it is very reasonably priced. To discover more about this sample collection visit our page: Roland SH-2000 Sample Collection where you will find comprehensive details.
Roland SH-2000 SAMPLE PACK [READ MORE / DETAILS]

KONTAKT / EXS24 / WAV



12GB, 169 Roland SH-2000 sound patches at 24-Bit resolution

PRICE: £14.99

P&P: £2.99 (UK ONLY)

TOTAL: £17.98

PLEASE NOTE WE ONLY SUPPLY TO THE UNITED KINGDOM - SORRY NO DOWNLOADS AVAILABLE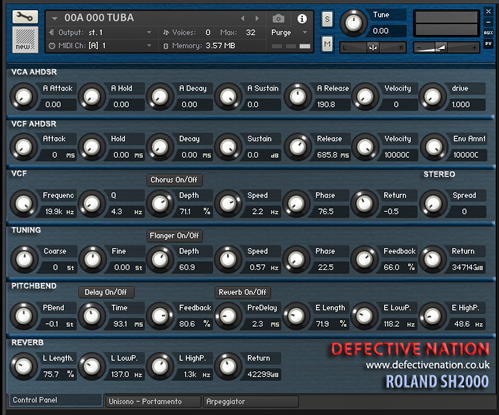 This sample collection now features our bespoke Kontakt interface to allow you to make fast and useful edits to the sound. The more adventurous users can create totally new patches using the SH2000 samples as diverse source material.
Now includes a free copy of our Ensoniq SQ-1 sample collection