Korg MS20 Synthesizer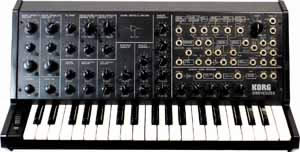 The MS20 was Korg's first major success in the portable synth market, it was so successful that they released a "mini" version in 2013 and a "kit" version in 2014. The MS20 is the "bigger brother" of the MS10 but the two together amount to a wonderfully complex, yet simple. 3 oscillator mono-synth. The Korg MS20 is well known for its amazing filter(s) which consist of a high pass and a low pass filter with both having resonance. Most prefer the first editiion filter which was a bespoke Korg filter but, to us, there isn't really that much of a difference between the early and the late filter as both are capable of creating angry aggressive tones through to mellow delights.
Sections
More About The Korg MS20
Korg MS20 Specifications
Notes About The Korg MS20
Famous Korg MS20 Users
Korg MS20 Samples
More About The Korg MS20
Even with the release of the Korg MS20 mini and the limited edition Korg MS20 Kit (which includes both MS-20 filter revisions) the prices of original MS20 synths do not seem to have been effected. However, the prices for original MS20's do vary considerably with the early edition (featuring the Korg 35 filter) seem to fetch the most compared to the later models (with filters that used off-the-shelf LM13600 OTA).
The exciting thing about the MS20 (and the smaller 1 Osc. MS10) is the amazing patchbay which makes it a semi-modular synthesiser. Rather than the cheaper, 1 oscillator, MS10, the MS20 features 2 oscillators and a few other additional functions including a "sample and hold" function and the "external signal processor" detailed below.
The sound of the MS20 is diverse and its most notable sounds are created by overdriving the filters but virtually all analogue sounds can be created, except for those more specific sounds available on certain well known synths such as those made by Moog. Although the synth is monophonic if you buy a few of then and a Midipal (from Mutable Instruments - http://mutable-instruments.net/midipal) it is possible to play a polyphonic MS20 however this works out to be rather expensive so most people record multiple tracks of an MS20 to create the necessary chords or sample their MS20 to play back the sample polyphonically via their samplers such as Kontakt or EXS24.
External Signal Processor
An interesting section of the patchbay is the "external signal processor" which allows you to inout an external source and then apply frequency-voltage converter, envelope follower and gate extractor with outs at various stages before being sent to the "External In" inout. Although this section is not perfect it is great for creating some unique effects and unusual sounds.
Software
Korg released a few software versions of the MS20 for Windows and Mac computers as well as the iMS20 for the iPad. The initial release of the Windows/Mac plugins were available with a great controller which is very much like the MS20 Mini in appearance. It is important to note that the controller patchbay does not accept control voltages or external inputs as it is merely for controlling the software rather than a hardware synth.
Korg MS10 Specifications
Polyphony: Monophonic (able to play 1 note at a time)
Oscillators: Two voltage controlled oscillators (VCOs).
Osc Waveforms: Osc 1: Triangle, Saw, (adjustable-width) Pulse/Square and noise. Osc 2 Saw, Square, Pulse and Ring Modulator.
LFO: 1 LFO with variable waveforms
Filter: 12db lowpass VCF with resonance & 6db high pass VCF with resonance
Envelope: EG1; Delay, Attack & Release. EG2 Hold, Attack, Decay, Sustain & Release.
Control: CV / S-trig (Gate). Plus various ins & outs via patchbay
Korg MS20 Notes
PLEASE be very careful when using the Korg MS20 (& our samples), especially if the resonance is set high, because you can do some serious damage to your ears and speakers, such is the power of this amazing synthesizer.
Korg MS20 Famous Users
The Korg MS20 is something of a recording studio standard as nearly all studios will have one (if only for its filters). It is, therefore, extremely likely that this synth has been used by a great many more well known artists that those in our list. Famous MS20 users include; Add N to (X), Air, Alphaville, Aphex Twin, Apoptygma Berzerk, Apollo 440, Arcade Fire, Asian Dub Foundation, Astral Projection, , Atoms for Peace, Autechre, Biosphere, Broadcast, Chicks on Speed, Coldcut, Covenant, Daft Punk, The Dandy Warhols,Depeche Mode, Der Plan, Deutsch Amerikanische Freundschaft, Die Krupps, Digitalism, Dubstar, Jimmy Edgar, Einstürzende Neubauten, Electronic Dream Planet, Electrosexual, Eliot Lipp, Alec Empire, Erasure, Ernest Blackwell, Fad Gadget, The Faint, The Fall, A Flock of Seagulls, Foals, Fortran 5, Freddy Fresh, Friendly Fires, Front 242, Front Line Assembly, Greg Anderson, Goldfrapp, Gorillaz, Hardfloor, Information Society, Jean-Michel Jarre, Juno Reactor, Justice, Kid606, KMFDM, Klaxons, Felix Kubin, Ladytron, Laibach, The Legendary Pink Dots, Legowelt, Liaisons Dangereuses, Mr. Oizo, MSTRKRFT, Nagy Ákos, Neon Indian, William Ørbit, Orchestral Manoeuvres in the Dark, Portishead,Simon Posford, The Presets, The Prodigy, Royksopp, Safety Scissors, Scooter, David Scott Stone, Severed Heads, The Shamen, Shapeshifter, Simeone, Simian Mobile Disco, Skinny Puppy, SkyLab, Skyphone, Snap!, Soulwax, Spleen United, Stephen O'Malley, Stereolab, Jimi Tenor, Trentemøller, Luke Vibert, Villa Rosa, Vince Clarke, wumpscut:, Yuksek and Zen Paradox
More Information
http://www.soundonsound.com/sos/1996_articles/nov96/korgms20.html
http://www.vintagesynth.com/korg/ms20.php
http://en.wikipedia.org/wiki/Korg_MS-20
MS20 Samples
Please Note: Our MS20 sample collection is available with our MS10 collection and a free DVD full of samples taken from an MS20 connected to an MS10.
COLLECTION 1

Korg MS20 SAMPLE PACK

Contains over 1276 MS20 sound patches at 24-Bit

PRICE: £34.77

P&P: £9.99 (UK ONLY)

TOTAL: £44.96

Our (13 DVD) MS20 sample collection includes over 1276 multisampled patches, for maximum authenticity we took over 77,000 individual samples.

PLEASE CONTACT US IF BUYING FROM OUTSIDE OF THE UNITED KINGDOM

COLLECTION 2

Korg MS20 + MS10 SAMPLE PACK (+ FREE DVD of MS10 & MS20 cross patched)

Contains over 1276 MS20 sound patches at 24-Bit

Contains over 500 MS10 sound patches at 24-Bit

Contains over 80 MS20+MS10 sound patches at 24-Bit

PRICE: £49.99

P&P: £9.99 (UK ONLY)

TOTAL: £59.98

PLEASE CONTACT US IF BUYING FROM OUTSIDE OF THE UNITED KINGDOM

This Collection Includes The Following

Our (13 DVD) MS20 sample collection includes over 1276 multisampled patches, for maximum authenticity we took over 77,000 individual samples.

Our (5 DVD) MS10 sample collection includes over 500 multisampled patches, for maximum authenticity we took over 34,000 individual samples.

Our MS20+MS10 sample collection includes 80 multisampled patches, for maximum authenticity we took over 5,000 individual samples.

PLEASE CONTACT US IF BUYING FROM OUTSIDE OF THE UNITED KINGDOM