SIEL DK 80 Synthesizer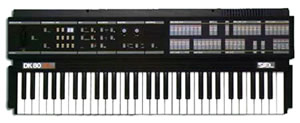 Just a year or two after Korg released their "pocket friendly polysynth", the Poly 800, SIEL released their "Dynamic Bitimbric synthsizer", the SIEL DK 80 (in 1985). Although the DK80 is often compared to the Poly800 the Siel is far more sophisticated. When the SSM2045 filter has been calibrated correctly the DK 80 can produce vastly different sounds to the Poly 800 (even if it has the Moog slayer mod). There are some peculiar similarities with these two synths though, both have a primitive additive synthesis with square wave harmonics and although the DK80 uses an oscillator primarily designed for an organ it can also produce a genuine sawtooth waveform (unlike the Poly 800 which uses an adjusted square wave to create a sort of stepped sawtooth waveform). Read more...
SIEL DK 80 Sample Collection
ALL SAMPLE COLLECTIONS MUST BE DELIVERED TO A UK PAYPAL VERIFIED ADDRESS - NO DOWNLOADS

Kontakt, EXS24 + WAV

Over 100 SIEL DK 80 sound patches at 24-Bit resolution

PRICE: £26.99

P&P: £2.99 (UK ONLY)

TOTAL: £29.98

PLEASE NOTE WE ONLY SUPPLY TO THE UNITED KINGDOM
DVD 1
Our samples are taken from a SIEL DK 80 which had had both filters adjusted to boost and tune the resonance to produce a far superior, and more versatile, sound.
We have sampled all of the presets (00 - 49) plus a further bank of 50 from the DK80/EXP 80 Cartridge as well as a few alternative sounds to take the total number of patches sampled to over 100.
The SIEL DK80 sample collection is part one of our "Budget Sample Collections" and as such it features two samples per octave with velocity sensitive patches multisampled to various degrees to reproduce the response. Please take a look at our premium sample collections which have every single note sampled to ensure optimum reproduction of that particular synthesiser's "sound".
DVD 2
When it came to creating a second DVD if Siel DK 80 samples we decided we'd jump to 4 samples per octave. The main reason for this is that we were sampling the main waveforms which the synth produces so that it acts as a sound source for the Kontakt synth engine (although they can be used in any sampler). Following the waveforms we recorded many filter sweeps using a variety of waveforms to demonstrate the character of the filter and we finished some shorter samples.

Kontakt Interface
Reviewing our SIEL DK 80 sample collection we decided it would benefit greatly by the application of our Kontakt interface[below] which allows for quick edits. Once applied we created an edited version on each patch sampled but we also jumped behind the interface to tweak the inner workings of Kontakt to create more distinctive patches with the emphasis in creating responsive synth movements by making the filter velocity sensitive allowing for expressive playing. The velocity movement also allows for some creative editing in DAWs [we use Logic Pro].Creating an edited alternative version of each patch meant that we effectively doubled the number of patches but, if we had had more time, we could have created many, many more patches. Of course the most useful samples are the waveforms on DVD 2. Using the Kontakt engine with a variety of filter types meant that the raw waveforms could be used in creating a huge range of highly useful sounds.
Included in the SIEL DK 80sample collection:
200 SIEL DK 80 patches sampled available as Kontakt 2 instruments.
200 SIEL DK 80 patches patches sampled available with Kontakt 5.5 interface (above).
200 additional patches created using our interface and the Kontakt synthesis engine.

ALL SAMPLE COLLECTIONS MUST BE DELIVERED TO A UK PAYPAL VERIFIED ADDRESS - No downloads available

Kontakt, EXS24 + WAV

Over 100 SIEL DK 80 sound patches at 24-Bit resolution

PRICE: £26.99

P&P: £2.99 (UK ONLY)

TOTAL: £29.98

PLEASE NOTE WE ONLY SUPPLY TO THE UNITED KINGDOM