Roland MC-202 MicroComposer 24-Bit Sample Collection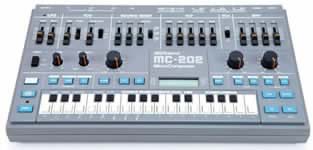 When you first look at the Roland MC-202 MicroComposer you will be forgiven for mistaking it for a toy. However, much like the Korg Volcas, the MC202 houses an analog synthesis engine. In many ways similarities can be drawn with the highly popular Roland SH-101 and the resulting sounds are extremely close if not the exact same. The only problem with the synth engine is that it is let down by the tiny interface. The size limitations are most noticeable with the extremely short faders and using them can be extremely frustrating. While sliding sliders, nearly always, results in an excellent sound it can be painful to make micro adjustments.
Roland MC-202 SAMPLE PACK

KONTAKT / EXS24 / WAV



PRICE: £26.99

P&P: £2.99 (UK ONLY)

TOTAL: £29.98

PLEASE NOTE WE ONLY SUPPLY TO THE UNITED KINGDOM - SORRY NO DOWNLOADS AVAILABLE
ROLAND MC-202 sample collection:
For this collection we applied our bespoke Kontakt 5 interface to allow quick and easy edits to a patch. For each of the 191 MC-202 patches we sampled we also created an "edited" version using our interface. However we designed the interface a while after we had sampled the synth and we had already created nearly 200 patches using the Kontakt synth engine. So, in total we supply nearly 200 MC-202 patches, 200 patches created using our interface and a further 194 Kontakt 5 patches, so, a total of nearly 600 different patches to get you started.
Now includes a free copy of our Ensoniq SQ-1 sample collection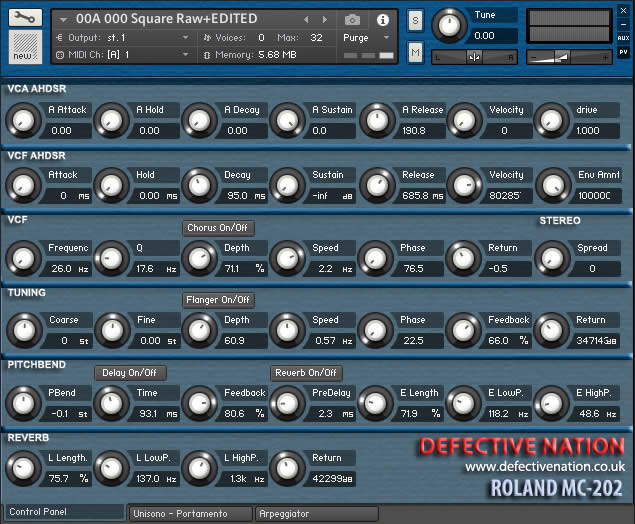 Included in the ROLAND MC-202 sample collection:
191 ROLAND MC-202 patches sampled available as Kontakt 2 instruments.
201 ROLAND MC-202 patches patches sampled available with Kontakt 5.5 interface (above).
194 additional patches created using our interface and the Kontakt synthesis engine.

About Our Roland MC-202 Sample Collection
Roland synths have a faithful following and many will rate the SH101 as the best Roland mono synth ever. Unfortunately this sends the price rocketing sky high and, before you know it, those who want to buy an SH101 to play are outpriced by those wishing to buy the synth as a financial investment or to put it on display as part of their collection. Not so widely known, but also demanding a high price, is the Roland MC-202 MicroComposer which, in many ways, is just like a mini SH2101. With this in mind we decided to carefully sample the raw waveforms of the MC-202 and include a selection of samples showing the filter in action to use in creating bespoke MC-202 patches from within Kontakt.
Our samples are taken from a vintage Roland MC202 Microcomposer. We sampled every note across a range of 7 octaves to allow the resulting patches to be able to be used for bass, lead and other applications. Our primary focus was, as with all of our collections, to produce a sample collection which we would be able to use in Native Instruments Kontakt sampler an so we wanted maximum authenticity and a true representation of the MC-202 sound. We sampled all of the raw waveforms and we sampled a vast range of the PWM waveforms the reasoning behind this was that we could use the samples as the base to creating an enormous range of MC-202 like patches using the Kontakt synth engine (see below). We also sampled a selection of patches which featured the filter sweeping so that we had a reference to compare our newly created patches with so that we could emulate the resonance more closely. Of course, by using the Kontakt 5 synth engine it is possible to create patches using the MC-202 waveforms to create patches which would be impossible on the original synth.
Getting The Most From Our Roland SH-2000 Sample Collection
Using our samples as the raw material for creating patches from within Kontakt means that you can create sounds which sound extremely similar to the original vintage synth but, by using the extensive synth engine of Kontakt, it is possible to create sounds which are not possible on the MC-202. There are a few tricks which can be used to help our samples sound far less static than if you did not use them. One of our most favourite ways of livening up all samples is to add extremely small amounts of really good plugin effects. Top of our list is to add a tiny amount of valve/tube preamp treatment, this can be done by routing the output of your soundcard into a decent preamp and then patch it back into your system to record. The easiest way, which is still effective, is to use a plugin but the trick is to keep the amount so low that you can not really hear it doing anything but if you remove it you immediately notice that something important is missing. You can do this with a variety of analog effect and guitar pedals or high quality plugins.

Please note that when you are using analog effects, such as chorus, it is common that an amount of noise enters into the sound. While this can be said to add character it is not always what you want. Keep in mind that each time you add a small amount of effect you could be adding a small amount of noise and it all adds up. Some noise can be removed using software but it will also take a chunk of important sound along with it so it is best to keep an ear out for noise and reduce it as much as possible from the start.

Roland MC-202 SAMPLE PACK

KONTAKT / EXS24 / WAV



PRICE: £26.99

P&P: £2.99 (UK ONLY)

TOTAL: £29.98

PLEASE NOTE WE ONLY SUPPLY TO THE UNITED KINGDOM - SORRY NO DOWNLOADS AVAILABLE