SIEL DK 80 Synthesizer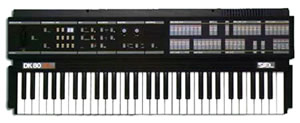 Just a year or two after Korg released their "pocket friendly polysynth", the Poly 800, SIEL released their "Dynamic Bitimbric synthsizer", the SIEL DK 80 (in 1985). Although the DK80 is often compared to the Poly800 the Siel is far more sophisticated. When the SSM2045 filter has been calibrated correctly the DK 80 can produce vastly different sounds to the Poly 800 (even if it has the Moog slayer mod). There are some peculiar similarities with these two synths though, both have a primitive additive synthesis with square wave harmonics and although the DK80 uses an oscillator primarily designed for an organ it can also produce a genuine sawtooth waveform (unlike the Poly 800 which uses an adjusted square wave to create a sort of stepped sawtooth waveform).
The SIEL DK 80 is an unusual but interesting synth that often does not get the love it deserves. It was a synth of its time constricted by the very expensive components which made, virtually all, other synths much more expensive. While the DK 80 today appears to have been a relatively expensive synth at launch, it was much cheaper than the American poly synths of the day. The Italians offered polyphony at somewhat reasonable prices but at the expense of some important options.
One of the most obvious problems with the DK is the fact that it is very similar to the Korg Poly 800, with one filter for all voices (paraphonic). Of course keyboard players simply changed their style of play to disguise the fact, or, alternatively, used the synths for chords rather than lead lines. Another problem, which caused the synth to be little use for cutting leads or aggressive bass, was the fact that the attack was rather slow. One of the most frustrating aspects of the synth is that panning of the two timbres is restricted so their usefulness is, again, diminished. Nearly all DK 80 synths were shipped with their resonance settings far too low but this is easily sorted by opening it up and tweaking the trim pots until happy. This simple mod is incredibly effective and it is surprising that the addition of a simple pot on the rear of the synth could have made such adjustment so much easier and it would have made the synth much more diverse.
SIEL DK 80 Sample Collection
Our SIEL DK 80 sample collection has been updated tofeature our Kontakt interface. We have also added samples to create a SIEL DK 80 construction set for modern samplers so the sound of the synth can be extended using the Kontakt synth engine. To discover more about our collection please visit our page about SIEL DK 80 Sample Collection & Construction Set.
ALL SAMPLE COLLECTIONS MUST BE DELIVERED TO A UK PAYPAL VERIFIED ADDRESS - No downloads available

Kontakt, EXS24 + WAV

Over 100 SIEL DK 80 sound patches at 24-Bit resolution

PRICE: £26.99

P&P: £2.99 (UK ONLY)

TOTAL: £29.98

PLEASE NOTE WE ONLY SUPPLY TO THE UNITED KINGDOM